French Provencal Fabrics & French Table Linens
The best French Print Fabrics selected for you
---
Provencal tablecloths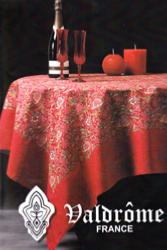 French country Fabrics

Prestige & Tradition
Jacquard Placemats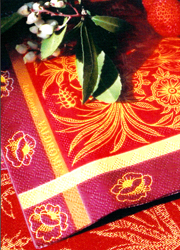 Exceptional diversity
Authentic patterns
Quilted Placemats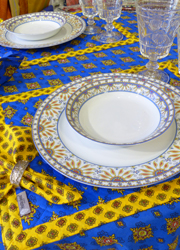 Sublime collection
Hight Quality Finish
Cotton Fabrics
Fabrics by meter
French Country Patterns
---
---
Find out more about French Provencal Fabric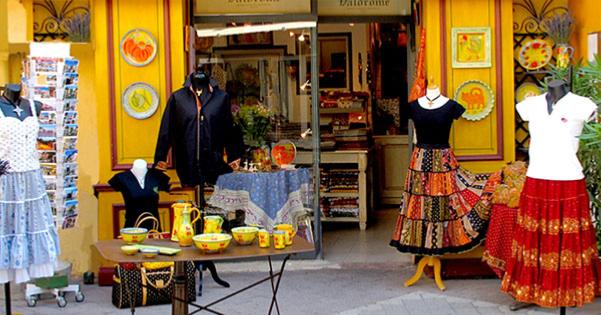 We are glad to share with you our love and passion for Provence and our profound knowledge of Provencal craft traditions. Welcome to our beloved deep Southern France throughout the coming web pages and enjoy your shopping!
Such original, traditional and fashionable pieces and home accessories are designed and worked out by hand, one by one, here in Provence by people who dedicated all their taste and skill to offer you what you may consider as the very essence and the soul of Provence.
French Print Fabrics
Want to Know More?
French Print Fabrics: Origins and Influences
The present French print fabrics are a heritage of East countries. Indeed, when the first Indians emigrated to the South of France in the 1600s, they brought with them their cotton fabrics full of colors, which then benefited from the rich iconography of Provence.
Therefore, this is the combination of Oriental and Provencal cultures that gave French fabrics their typical colors and patterns!
You want to know more about french Provencal Decor?
If you want to know more about French country decor, browsing the following pages of our French online fabric Store, you will find our selection of Provencal tablecloths,Provencal placemats& Runners, Provencal Kitchen Accessories, Provencal printed fabrics, Provencal Men's Shirts, Provencal women shawls, Provencal skirts, Provencal bags…
They will bring you a taste of elegance and everlasting traditions from the South of France.
Buy your French cotton fabric online and enjoy secure payment and express shipping!
---